Star Councils 2015-2016
Star Council Award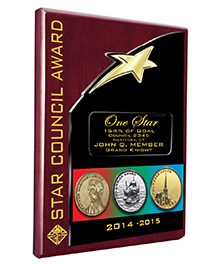 The Star Council Award recognizes outstanding achievement in membership, insurance and service program activities. To be eligible to earn the Star Council Award, a council must qualify for the Father McGivney, Founder's, and Columbian awards.
To qualify for these awards, a council must have submitted its Survey of Fraternal Activity (#1728) and its Service Program Personnel Report (#365). Other eligibility requirements are:
Columbian Award
Complete and submit  the Columbian Award Application (SP7) found in the Council Report Forms Booklet (#1436) or at www.kofc.org/forms. Councils must conduct and report at least four major programs in each of the Service Program categories: Church, community, council, family, culture of life, and youth. Completed applications must reach the Supreme Council office by June 30.
For the 2016-2017 Fraternal year, a minimum of four (4) of these major programs must be designated as Domestic Church activities.
Father McGivney Award
Achieve membership quota. The quota for councils is 7 percent increase of the council's membership as of July 1.  The minimum quota is 4 and the maximum is 35.
Founders' Award
Achieve insurance membership quota. The quota for councils is a 2.5 percent net increase in insurance membership as of July 1 for the fraternal year.  The minimum quota is 3 and the maximum of 18.
The 24 Councils achieving this goal in the 2015/16 Fraternal Year were:
#397 St Paul, #945 Owatonna, #1544 Bemidji, #1573 Montgomery, #3329 Barnesville, #3613 Maple Lake, #5141 Blaine, #5541 Morgan, #5647 Cottage Grove, #5926 Clara City, #6374 Burnsville /Eagan, #9585 Cedar, #9905 Lino Lakes (Double Star), #11941 Rogers, #11949 St Thomas University, #12581 Frazee, #13001 Brooklyn Park, #13096 Medina, #13359 Maple Grove (Double Star), #14013 Clearwater, #14420 Minneota, #14616 Grey Eagle/Swanville, #14832 St Anthony, #16225 Lonsdale (Triple Star)
Star Council presentations 2016
---